How to Read Military Time: Useful Handbook with Easy Explanation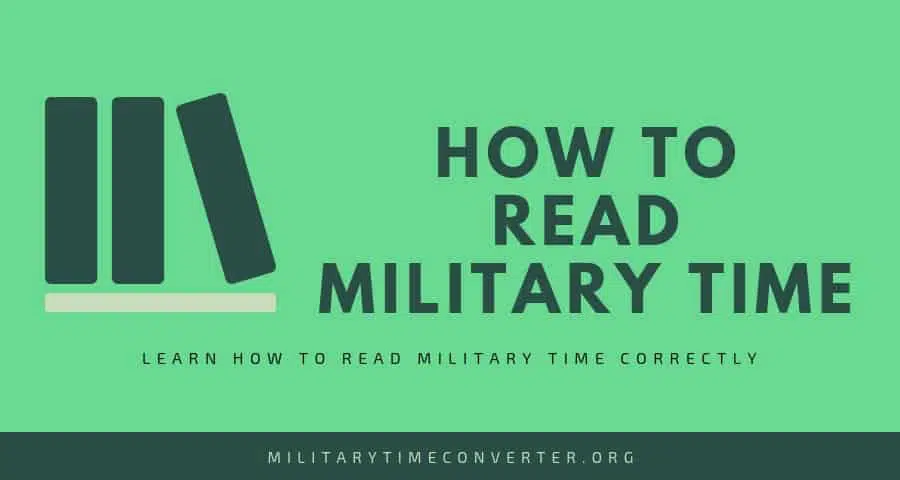 Share with your friends!
A common question for most of the people is how to read military time. When you do not know what the military time is, you will never learn to read it. So it is important you first understand everything about military time.
How to read Military Time? Easy way to read Military Time is to use numbers from 0 to 23 and read it like the thousand counting because Military Time isn't divided by AM and PM.
There are two types of time formats we are using. First one is 12 hour clock that is commonly used around the world, mainly in English speaking countries. The other is 24 clock that is commonly used by the military. The difference between standard time and military time is that in standard time there are only 12 hours and repeat them twice during day. In 24 hour clock, the time starts from 0000 and ends with 2400.
There is confusion about 24th hours around the world. However, it is the end of the day so no one actually pays attention. But you do not have to be afraid because we will solve this issue in our article about 24 hour time.
So you now know the format of military time, here is how you can read and write the time in 24 hour format.
How to Read Military Time?
Learning how to read military time is not as hard as you think it is. Once you will learn how to do it you will feel like you are actually reading counting. Military time reading is similar to reading the thousand counting. You might find it confusing what we are talking about. Do not worry because we have the perfect example for you.
In case army man asks you about the time. You know the conversion but you do not know how to read it. If the time is 2300 all you have to do is say it as twenty-three thousand. Things get easier when the time is in hours format.
When it comes to minutes you have to use the same formula again. In case it is 2343. You will say that it is twenty three thousand and forty three. The army man will understand the time and you will impress him by reading the time correctly.
Useful Chart with Pronunciation How to read Army Time
Here we have the list of military time that will make it easier for you to read the time. If you are confused how to read military time do not worry and open the list. Match the time and read it.
There is no need to tell anyone that you were using this list. The best part is you can also easily save the list on your  cell phone. Download this How to Read Military Time – Printable Chart and open it when you like even if there is no internet connection.
How to Write Military Time
Most of the people also want to learn how to write military time. There are different professional organizations and groups that are using different ways of writing the military time.
The emergency services and hospitals commonly use the hours and minutes to write the time. There are no signs used in the time that we commonly add after the hours. The format is straight forward and here is what you need to know.
Hours and minutes
Example: 1341 or 1341 hours
When you have to include the seconds in the time only then add colon. You will add a colon between minutes and seconds for military time format.
Hours, minutes and seconds
Example: 1341:55 or 13:41:55 hours
Enginners and scientists express military time  by using the colon between hours, minutes  and as well as seconds. So military time format will express the time as:
Hours and minutes
Example: 13:41
Or with seconds:
Hours, minutes and seconds
Example: 13:41:55
TIP: In case you want to understand how to make conversion from standard time to military time for specific times check out our posts with explanation for the specific military time conversions.
Military Time Converter
You will only learn how to read military time when you know the military time conversion. There are a different addition and subtraction techniques which you can use for conversion. However, the best solution is the army time converter. It is a recently introduced tool that will allow you to convert the standard time into military time. You have to follow the given steps.
Add the standard time to the online tool
Click on the option of convert and you will get the conversion within seconds
Once the conversion is done you have to read the time or write it according to instruction given above
If you are finding it confusing make sure to consult the military time chart
So make sure that you always keep the converter near you. It is the tool that will never let you down. You can use it anytime and anywhere you like.
TIP: You can convert time you need right now:
Converter from Military Time to Standard Time:
Convert Militry Time to Standard Time
Please write correct time
Converter from Standard Time to Military Time:
Convert Standard time to Military Time
What Does AM Stand For
Ante Meridiem is what does AM stand for. The translation to English it means before midday. A 12 hours' time sign is just utilized as a part of English nations. The composed time has just 12 hours format, while rest of the world have 24 hours format in a single day.
To determine if a compos time is an hour in the de morning or at night AM and PM is utilized. In most European nations there is a 24-hour format composes time utilize where 0 towards 12 hour is toward the beginning of the day and 13 goes to 24 is toward the evening/during the evening.
What Does PM Stand For
People want to know that what does pm stand for. They should know it is Post Meridiem, which means after midday. Following along and recall on the most proficient method to utilize AM or PM can be quite precarious. To have the capacity to make recalling less demanding there are a few ways and mental aids that apply to this subject. We will clarify some of them. So make sure that you understand the time properly.
AM and PM are very confusing. This is the reason for their cancelation from the army time because more solid cannot waste time understanding the AM and PM. They have to act fast and the only way to do is military time. So this is the reason all the armies apply the military time.
How to Read Military Time: Conclusion
It is also important that you completely understand what the military time is. It is the only way you can write it properly. If there is a confusion take some help from technology. Once you have the conversion there is nothing to worry about.
Share with your friends!