24 Hour Clock is wordwide used time format. Most of the people are wondering how this time format works and how to use it. You should know there are two types of time format. One is the 24-Hours Time Format and the other one is 12-Hours Time Format.
What is 24 Hour Clock? The 24 Hour Clock is Time format where you don't use AM and PM. Counting for first 12 hours of day is the same as in 12 Hour Clock but then hours counting continue from 13 to 24 for PM hours. 24-Hours Time format is also known as Military Time or Army Time.
This article describes how 24 Hour Clock works and what are differencies between this Time Format and 12 Hour Clock. So sit back and continue reading.
24 Hour Clock and Military Time
First, it is important that you learn about the 24 hour clock which is also called the military time. It is the 24 hours format that consists of hours from 0 to 24. It works according to the rotation of the sun. This time format is used by world armies so that is the reason it is famous as the military time. Just like we have our clocks with the 12 hours format. There is also the 24 hour military clock. It works according to the military time.
And this is how 24-Hours Clock looks like: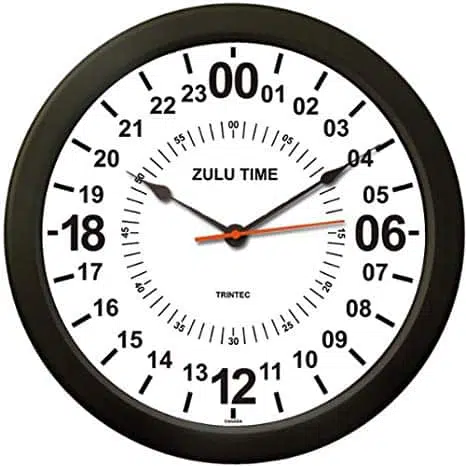 TIP: Are you suprised that Army Clock contains all 24 hours on the clock face? In fact, this is real clock so if you like them, you can buy them here.
Apart from the 24 hour clock, there are many things you have to learn about the military time. The day in the military time starts with 0000 and it ends with 2400. The system is completely different from the 12 hours format. However, the confusion here is how they know about the day and night.
It is really simple because the 0 to 12 is the day hours and after that noon begins and from 13 to 24 there are next hours that lead us towards the night. There are no confusions in the military time. The army cannot afford to have any confusions. So they are using the 24 hours' time for many years.
TIP: In case you want to understand how to make conversion from standard time to military time for specific times check out our posts with explanation for the specific military time conversions.
How does 24 Hour Clock Works
A common question that most of the people ask is how the military time works. They want to learn the military time format. It will help them to deal with the conversion. They will not have to deal with confusions when both time formats come in front of them. Here are a few things you need to know about military time.

The new day starts with 0000. It means that the new date has begun. When it is 1200 it means that it is afternoon in the military time. The time from 1300 to onwards is considered as evening and night. There is 0000 and 2400. Both these values have the same meaning. They show the ending one day and start of another. In military time:
from 0000 to 1159 means AM
from 1200 to 2400 means PM
0000 and 2400 is midnight and have the same meaning
If it is still confusion for you do not worry because military time translator is available. It will allow you to quickly convert the time so that you will not have to waste your time.
TIP: You can convert time you need right now:
Converter from Military Time to Normal Time:
Convert Militry Time to Standard Time
Please write correct time
Converter from Normal Time to Military Time:
Convert Standard time to Military Time
24-Hours Time vs. 12-Hours Time
It is important that you learn the difference between the 12 hours and 24 hours time. In the military time for midnight, there are no confusions. However, in 12 hours format, there is confusion because 12 is for new day and afternoon. There is no AM and PM in the military time. It helps to save the time of the military. However, the civilians have to deal with understanding AM and Pm of the time. The military time midnight is very easy to understand. So assure that you learn this time format.
What is 24 Hour Clock: Conclusion
We know that military time can confuse you sometimes. This is the reason we have the latest military time charts. In these charts you will find the direct comparison of the military time and standard time. You can quickly compare the hours of the military time and standard time. If you are wondering how you will know about the minutes. There is nothing to be confused.
The minutes in military time and standard time are the same. With the help of charts you will not have to deal with any confusions or military time conversions. It is important that you know everything about the military time. Start with the military time history. We have a few articles on all the information that you need.